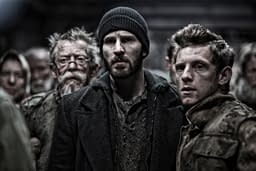 According to The Hollywood Reporter, Bong Joon Ho's Snowpiercer has been optioned to become a television series by Marty Adelstein's Tomorrow Studios. Terminator: The Sarah Connor Chronicles vet Josh Friedman will write the pilot script.
"We are very excited to be working with Josh on this incredible story," Adelstein said. "As such a prolific and innovative writer he is the ideal person to create a massive new world in this adaptation. This is an expansive, high-concept project and we are thrilled to be a part of reimagining it for television."
The original film, based on the French graphic novel Le Transperceneige by Jacques Lob and Jean-Marc Rochette, told the story of the last human remnants stuck on a train with no apparent destination or hope following a man-made Ice Age. Chris Evans starred as a lower-class tail section passenger during a revolution against the front-car dwelling elites.
Bong recently closed a deal with Netflix and Brad Pitt's Plan B to fund his upcoming monster movie Okja.
Enjoyed this article? Share it!