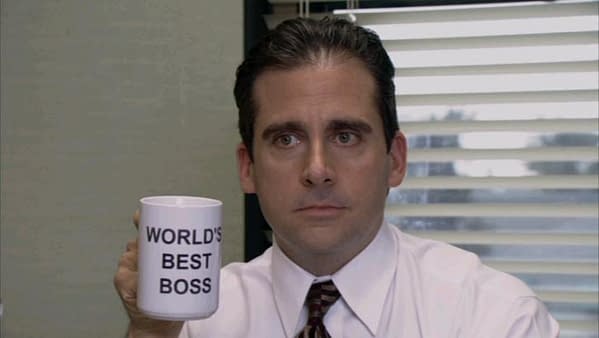 Now the last episode of The Office has been completed, we finally know if Steve Carell will be making any kind of cameo or return appearance.
A few months back, we were told not to expect Carell's character Michael Scott to be coming back, but just a couple of weeks ago, some fairly credible-sounding rumours started spreading.
And now, I think we know for sure.
According to TV Line's totally trustworthy Michael Ausiello, Carell will appear, but it won't be a big thing. Ausiello calls it:
more of a cameo than a full-fledged guest appearance.
According to a recent report in The New York Times, the last episode will follow the format of:
a reunion show, in the fashion of the post-competition cast rehashes familiar from reality shows like Survivor.
This would allow for all sorts of footage of Scott to be cut in. "Where is he now" stuff, or even faux-vintage clips.
And there's another, perhaps more sentimental possibility. NBC have announced that the episode will feature a wedding. I can imagine Michael scooching in at the back of a church. Maybe?
We'll find out on Thursday May 16th. Or at least, you will. I haven't seen a single episode of this season and I won't until the Blu-ray box is out. I am looking forward to it, though, and I'm sure I'll miss the series when it's gone.
Enjoyed this article? Share it!