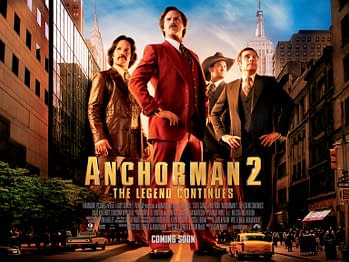 The US has nothing quite as efficient or attractive as Cineworld's Unlimited scheme from here in the UK where £18.90 per month will get you as many tickets for that one cinema chain as you can use.
There's an appetite for this kind of deal, though. Of course there is. And the latest to offer something similar are Paramount and Drafthouse Cinemas.
Because now, if you buy a $15 Anchorfan Pass, you can watch Anchorman 2 as many times as you want, as often as you want, from New Year's Day until it has completed its general release.
According to Deadline, the pass is good at:
participating Alamo Drafthouse Cinemas in Austin, Houston, San Antonio and New Braunfels, Texas; Denver; Kansas City, MO; Kalamazoo, MI; Winchester and Ashburn, VA; and Yonkers, NY
Well, it's a step in the right direction.
Though… I don't think I'll be ready to see Anchorman 2 again when it reaches Blu-ray let alone in the next few weeks.
Enjoyed this article? Share it!