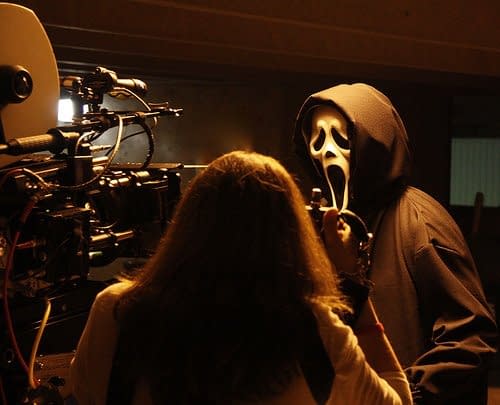 I'll make this quick because in a few hours, Entertainment Tonight will air their behind the scenes piece on Scream 4 and give me lots more to write about. Already, however, they've previewed that piece on their site and on their show.
First of all, here's a clip from last night that plugs tonight's segment:
And now, here's a piece of their web report in which they quote Courtney Cox and give us our best Scream 4 plot details yet:
"We all reunite at the beginning of the movie," says Courteney, explaining that her character, Gale Weathers, has given up her job as a reporter to marry Deputy Dewey (played by David) and write books. "She's written six Stab books and she has writer's block, and she's pretty bored, pretty miserable, pretty desperate, and all of a sudden some murders start happening and her life starts to look up. She likes a good murder."
As I said, more to follow.
UPDATE: And here is some more, right now. It seems some of the interview segments from ET have somehow made their way onto YouTube. There's still more to come – all of the shots of filming taking place, for one thing.
Enjoyed this article? Share it!