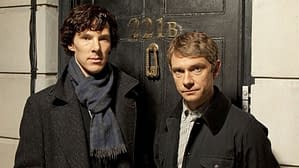 What do you think of when you hear the name Sherlock Holmes? A pipe and a deerstalker, gaslight on cobbles? A bare-knuckle boxer with a curious accent?
Forget all of that now. He's had a bit of a scrub-up (again) and he's looking good.
This new Sherlock Holmes series has been devised by Steven Moffat and Mark Gatiss. That's the man who just now gave us the best run of Dr. Who in the show's entire history and… well, the man who wrote the least satisfying episode in this same series. There are three separate Sherlock stories, and the BBC will be airing them on Sunday nights at 9pm from July 25th. The first one was written by Moffat who, I can only imagine, has had a whale of a time with the mystery structure.
There's more to come from us on this, but for now here's the trailer and then a short interview video with Moffat and Gatiss talking about the show.
Enjoyed this article? Share it!