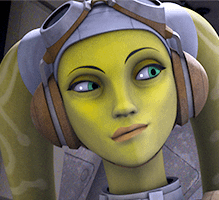 Among the characters on Star Wars Rebels, Hera Syndulla is perhaps the most capable and composed of a group featuring two partially-trained Jedi, a Mandalorian graffiti artist and one of the last Lasats. In the first season, she was also quietly the boss of the group, slowly steering them away from smuggling and into the Rebellion against the Empire.
When Vanessa Marshall, who lends her voice to Hera on the show, is asked to describe the character, she responds with a word: focused. "She knows when to speak and when to be silent and there's strength in that," she told Bleeding Cool last Friday. "I think it was Lao Tzu who said 'he who talks doesn't know and he who knows doesn't talk' and she's very skilled in that." While the some of the other characters are prone to lose their tops, Hera tends to stay collected. "Sometimes, doing nothing can be a choice and I think she often has to make that [choice] to allow people to accomplish what they don't even know they can," Marshall continued.
"What's also lovely about her is that she's a nurturing, caring — sort of a mother figure without all the annoying parts of a mom. She doesn't really nag people, but she cares about them and makes them feel loved and keeps them in line," she added.
Hera also managed to keep Lando Calrissian in line in one episode, a moment Marshall loved. Though the she and actor Billy Dee Williams did not record together — his commitments to Dancing With The Stars at the time prevented that — she was thrilled to see how their performances gelled. "All my childhood dreams collided in one moment there. To think that I'd be involved with a portion of the narrative that preceded what I was watching as a kid is sublime," she said. "But also, that I got to punch him was amazing."
Marshall said Hera has certainly resonated with fans, and recalled one particular boy she met at DragonCon. "It was his birthday and and his dad came up to me after and said 'Thank you so much for talking to him. He's autistic and the only thing that makes him speak and smile is [Hera].'" The father had tears in his eyes. "It's inspiring young girls, but it's impacting boys," she said. "She offers inspiration to all of us. It's been cool to represent that and see that it's making a tangible difference."
Hera's ability to inspire will come in handy in next week's episode, in which she must convince Kanan to find Star Wars: The Clone Wars veteran Captain Rex. "[She] has to bait Kanan to disregard any association he has with Order 66 and clones in general in order to save the lives of people he cares about," Marshall explained. "That's asking a lot of him."
The character has her own past with the clones during the war, including her direct connection to a character from the Clone Wars series. Marshall said some of these ties will be explored in a an upcoming episode. "You'll find out about her childhood and her relationship with her father Cham Syndulla," she said. "They're both freedom fighters, but the question is why aren't they fighting together? That will be answered. It's a very satisfying episode. A lot of questions answered there."
Star Wars Rebels returns to Disney XD on October 14th.
Enjoyed this article? Share it!