Today's Star Wars report — which I'm thinking of calling "Imperial Dispatch" — takes us to this article in The Hollywood Reporter in which they reveal the new film, Star Wars: The Force Awakens, will screen in all the IMAX theaters in North America during its first month of release. It will also appear on most international IMAX screens as well, pushing competing films like In the Heart of the Sea and The Revenant out. THR notes that The Hobbit films struck a similar deal with the large-format creator, but IMAX has been disinclined to make such a deal since.
So if you want to see Spectre or The Hunger Games: Mocking Jay – Part 2 in the format, you best do it within a week or two of release.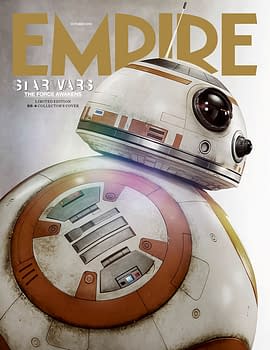 In additional Star Wars news, Empire released an image of its subscribers' cover and it is a thing of beauty. I have no idea if new droid character BB-8 will be important, beloved, or the next Jar Jar Binks. All I know is that when it rolled onto the stage at Star Wars Celebration back in April, it proved that the thing is a remarkable piece of design and engineering.
There are also a handful of new images in the story, including one of John Boyega in storm trooper armor.
Finally, Joseph Gordon-Levitt tells New York Magazine that he hopes the rumors of his involvement with Rogue One: A Star Wars Story are true. "That's the best way to say it: I hope that they're true," he says, taking the word from the interviewer. Gordon-Levitt starred in Rogue One director Rian Johnson's high school noir Brick and time-travel thriller Looper.
Enjoyed this article? Share it!