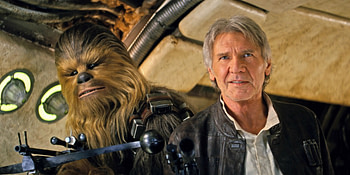 The Saturn Award nominations have been released and leading the film categories is Star Wars: The Force Awakens. The sci-fi/fantasy film series' return lead with fifteen nominations. Mad Max: Fury Road landed nine nominations, including a best actress nod for Charlize Theron.
Matt Damon was nominated in the best actor category for his starring role in The Martian. Director Ridley Scott was also nominated alongside Mad Max's George Miller, The Force Awakens' J.J. Abrams and others.
On the television side, Supergirl debuted strong with star Melissa Benoist and co-star Calista Flockhart nominated as best television actress and support actress, respectively. The series itself was nominated in the Best Superhero Adaptation Series category.
Here's the complete list of nominees in the film and television categories:
Best Fantasy Film:
Age of Adaline
Baahubali: The Beginning
Cinderella
Goosebumps
The Hunger Games Mockingjay Part 2
Ted 2

Best Action Adventure Film:
Everest
Fast & Furious 7
Mission Impossible Rogue Nation
The Revenant
Spectre
Spy

Best Thriller Film:
Black Mass
Bridge of Spies
The Gift
The Hateful Eight
Mr. Holmes
Sicario

Best Horror Film:
Crimson Peak
Insidious Chapter 3
It Follows
Krampus
The Visit
What We Do In The Shadows

Best Supporting Actor:
Paul Bethany – Avengers: Age of Ultron
John Boyega – Star Wars: The Force Awakens
Michael Douglas – Ant-Man
Adam Driver – Star Wars: The Force Awakens
Walter Goggins – The Hateful Eight
Simon Pegg – Mission Impossible Rogue Nation
Michael Shannon – 99 Homes

Best Supporting Actress:
Jessica Chastain – Crimson Peak
Carrie Fisher – Star Wars The Force Awakens
Evangeline Lily – Ant-Man
Lupine Nyong'o – Star Wars: The Force Awakens
Tamannaah – Baahubali: The Beginning
Alicia Vikander – Ex-Machina

Best Performance By A Young Actor:
Olivia DeJonge – The Visit
James Freedson-Jackson – Cop Car
Milo Parker – Mr. Holmes
Elias & Lukas Schwartz – Goodnight Mommy
Ty Simpkins – Jurassic World
Jacob Tremblay – Room

Best International Film
The Hundred Year Old Man Who Climbed Out Of The Window And Disappeared
Goodnight Mommy
Labyrinth of Lies
Legend
Turbo Kid
The Wave

Best Actress
Emily Blunt – Sicario
Jessica Chastain – The Martian
Blake Lively – The Age of Adaline
Daisy Ridley – Star Wars: The Force Awakens
Charlize Theron – Mad Max: Fury Road
Mia Wasikowska – Crimson Peak

Best Actor
Matt Damon – The Martian
Leonardo DiCaprio – The Revenant
Taron Egerton – Kingsman: The Secret Service
Harrison Ford – Star Wars: The Force Awakens
Domhnall Gleeson – Ex Machina
Samuel L. Jackson – The Hateful Eight
Paul Rudd – Ant-Man

Best Film Director
J.J. Abrams – Star Wars: The Force Awakens
Guillermo del Toro – Crimson Peak
Alex Garland – Ex-Machina
George Miller – Mad Max: Fury Road
Peyton Reed – Ant-Man
Ridley Scott – The Martian
Colin Trevorrow – Jurassic World

Best Film Writing
Guillermo del Toro, Matthew Robbins – Crimson Peak
Alex Garland – Ex Machina
Drew Goddard – The Martian
Jane Goldman, Matthew Vaughn – Kingsman: The Secret Service
Rick Jaffa, Amanda Silver, Colin Trevorrow, Derek Connolly – Jurassic World
Lawrence Kasdan, J.J. Abrams, Michael Arndt – Star Wars: The Force Awakens
George Miller, Brendan McCarthy,
Nick Lathouris – Mad Max: Fury Road

Best Film Editing
Maryann Brandon, Mary Jo Markey – Star Wars: The Force Awakens
Eddie Hamilton, Jon Harris – Kingsman: The Secret Service
Dan Lebental, Colby Parker, Jr. – Ant-Man
Leigh Folsom Boyd, Dylan Highsmith, Kirk Morri, Christian Wagner – Furious 7
Kevin Stitt – Jurassic World
Margaret Sixel – Mad Max: Fury Road

Best Film Production Design
Rick Carter, Darren Gilford – Star Wars: The Force Awakens
Scott Chambliss – Tomorrowland
Sabu Cyril – Baahubali: The Beginning
Colin Gibson – Mad Max: Fury Road
Thomas E. Sanders – Crimson Peak
Ed Verreaux – Jurassic World

Best Film Music
Tom Holkenborg – Mad Max: Fury Road
Johann Johannsson – Sicario
M.M. Keeravani – Baahubali: The Beginning
Ennio Morricone – The Hateful Eight
Fernando Velazquez – Crimson Peak
John Williams – Star Wars: The Force Awakens

Best Film Costume Design
Alexandra Byrne – Avengers: Age of Ultron
Kate Hawley – Crimson Peak
Michael Kaplan – Star Wars: The Force Awakens
Arianne Phillips – Kingsman: The Secret Service
Sandy Powell – Cinderella
Rama Rajamouli, Prashanti Tipirineni – Baahubali: The Beginning

Best Film Make-Up
David Marti, Montse Ribe, Xavi Bastida – Crimson Peak
Damian Martin, Nadine Prigge – Mad Max: Fury Road
Neal Scanlan – Star Wars: The Force Awakens
Joel Harlow, Kenny Niederbaumer – Black Mass
Gregory Nicotero, Howard Beger,
Heba Thorisdottir – The Hateful Eight
Donald Mowat – Sicario

Best Film Special / Visual Effects
Roger Guyett, Patrick Tubach,
Neal Scanlan, Chris Corbould – Star Wars: The Force Awakens
Andrew Jackson, Tom Wood,
Dan Oliver, Andy Williams – Mad Max: Fury Road
Andrew Whithurst, Paul Norris,
Mark Ardington, Sara Bennett – Ex Machina
Richard Stammers, Anders Langlands,
Chris Lawrence, Steven Warner – The Martian
John Rosengrant, Michael Lantieri,
Tim Alexander – Jurassic World
Paul Corbould, Chris Townsend,
Ben Snow, Paul Butterworth – Avengers: Age of Ultron

Best Fantasy TV Series
Game of Thrones
Haven
Jonathan Strange and Mr. Norrel
Outlander
The Muppets
The Magicians
The Shannara Chronicles

Best Action Thriller TV Series
Bates Motel
Blindspot
Fargo
Hannibal
The Last Ship
The Librarians
Mr.Robot

Best Superhero Adaptation Series
Arrow
Legends of Tomorrow
The Flash
Gotham
Marvel's Agent Carter
Marvel's Agents of Shield
Supergirl

Best Horror TV Series
American Horror Story Hotel
Ash vs Evil Dead
Fear The Walking Dead
Salem
Teen Wolf
The Strain
The Walking Dead

Best Supporting TV Actor
Richard Armitage – Hannibal
Vincent D'Onofrio – Daredevil
Kit Harington – Game of Thrones
Toby Jones – Wayward Pines
Erik Knudsen – Continuum
Lance Reddick – Bosch
David Tennant – Jessica Jones
Patrick Wilson – Fargo

Best Supporting TV Actress
Gillian Anderson – Hannibal
Tovah Feldshuh – The Walking Dead
Calista Flockhart – Supergirl
Danai Gurira – The Walking Dead
Lena Headey – Game of Thrones
Melissa Leo – Wayward Pines
Melissa McBride – The Walking Dead

Best Guest Performance on TV
Laura Benanti – Supergirl
Steven Brand – Teen Wolf
Victor Garber – The Flash
Scott Glenn – Daredevil
Alex Kingston – Doctor Who: The Husbands of River Song
John Carroll Lynch – The Walking Dead
William Shatner – Haven

Best Younger Actor on TV
Max Charles – The Strain
Frank Dillane – Fear The Walking Dead
Jodelle Ferland – Dark Matter
Brenock O'Connor – Game of Thrones
Chandler Riggs – The Walking Dead
Dylan Sprayberry – Teen Wolf
Maisie Williams – Game of Thrones

Best TV Actress
Gillian Anderson – The X-Files
Caitriona Balfe – Outlander
Melissa Benoist – Supergirl
Kim Dickens – Fear The Walking Dead
Rachel Nichols – Continuum
Krysten Ritter –  Jessica Jones
Rebecca Romijn – The Librarians

Best TV Actor
Bruce Campbell – Ash vs Evil Dead
Charlie Cox – Daredevil
Matt Dillon – Wayward Pines
David Duchovny – The X-Files
Grant Gustin – The Flash
Sam Heughan – Outlander
Andrew Lincoln – The Walking Dead
Mads Mikkelsen – Hannibal

Best Science Fiction TV Series
The 100
Colony
Continuum
Doctor Who
The Expanse
Wayward Pines
The X-Files

Best New Media Television Series
Bosch – Amazon
Daredevil – Netflix
Dreamwork's Dragons – Netflix
The Man In The High Castle – Amazon
Jessica Jones – Netflix
Powers – Crackle
Sense8 – Netflix