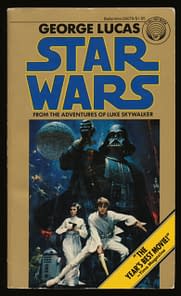 Spoilers. We try our best to avoid them and the later outrage when they happen to appear in unlikely places or our Facebook feeds. But spoilers have become a major concern and, according The Wall Street Journal (via Slashfilm), Disney and book publisher Del Rey are taking the extraordinary step of delaying the printed publication of the Star Wars: The Force Awakens novelization until January 5th, 2016. The ebook edition will be available when the film premieres on December 18th.
Since the beginning of the phenomenon, Star Wars film novelizations have appeared on bookshelves long before the films themselves, offering secrets to those willing to read Star Wars in a format that may not completely reflect the finished film.
This time around, the level of secrecy involved and the lead-up time required to print physical copies complicates the matter. Key details could leak as the books are finalized, shipped and even sent out for review. Security around the ebook is easier to maintain.
"We would love to release both formats of the novelization simultaneously and not miss the holidays, but we recognize the importance of protecting the story for the fans," said Del Rey's David Moench. That level of protection is yet another reflection of the unprecedented interest — or hype — around Star Wars as it returns to the big screen.
Enjoyed this article? Share it!