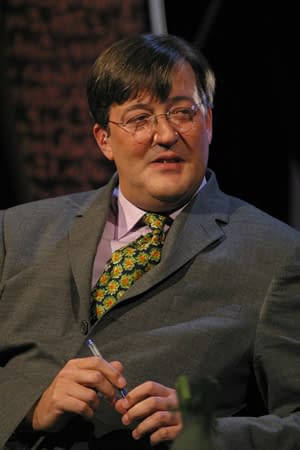 This morning's Danny Baker show on the BBC's 5 Live was solid radio gold. Joining Baker for some "Highbrow, above the eyebrow chat" was Stephen Fry, British national treasure and the pop cultural embodiment of esoteric erudition.
Amongst the many topics discussed (the conversation was as nimble as a conger eel) came Stephen Fry's acting work. Here's how he announced his casting in Guy Ritchie's about-to-shoot Sherlock Holmes 2, and compared it to a more satisfying part he's already played:
I'm playing Mycroft in the sequel to the Sherlock Holmes film Guy Ritchie directed with Robert Downey Jr., and that sort of part is fun, but just once in a while to play a genuine all round sort of lead figure with complexity and tragedy and wit and all the sort of things that Oscar [Wilde] had was a once in a lifeftime thrill.
Of course he's fully aware how much of a pantomime this Holmes film will be.
Moffat and Gatiss definitely have the better Sherlock, but it seems that Ritchie will have the better Mycroft. It's down to the wire for a Moriarty showdown. Could Ritchie possibly cast somebody more odd and unsettling than Moffat and co. did?
My dream casting for Moriarty? Derren Brown.
For the next seven days, you'll be able listen the whole conversation between Baker and Fry – indeed, the whole show – via the BBC iPlayer. You might also want to subscribe to the show's weekly podcast.
Enjoyed this article? Share it!