It seems like Captain Jack isn't the only bisexual in the good Doctor's cadre of travelling companions as Steven Moffat has now outed River Song via Twitter.
So in the "fine tradition" of the British Tabloids, here's the picture that proves River Songs would kiss a girl and like it (and, of course, a boy, for that matter).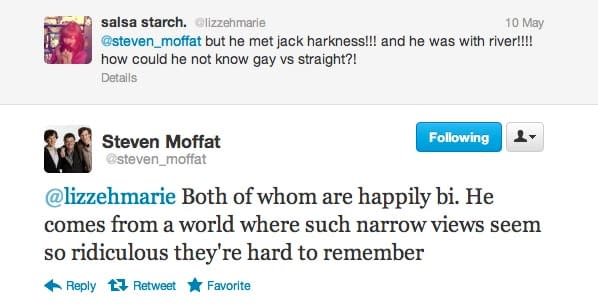 Whether or not we'll be seeing any clearer signs of Ms. Song's sexual tastes in upcoming episodes of Doctor Who remains to be seen, but I wouldn't take it for granted that we will. Moffat might have met a lot of criticism for his portrayal of Irene Adler in the last run of Sherlock, but I don't think he's about to start defining River by her sexuality. I reckon he's a lot better than that.
I expect there was already plenty of River Song, Madame Vastra and Jenny shipping going on, and now I bet there's going to be a lot more.
Enjoyed this article? Share it!