In 1979, Heavy Metal produced a comic book adaptation of Steven Spielberg's World War II comedy 1941. The book, by Stephen R. Bissette and Rick Veitch, departs from the script and has a grotesque feel with imagery that tends to the very racist depiction of Japanese soldiers of the era.
Once Spielberg saw colored pages of the book, he zeroed in on the elements he found at odds with the light comedy of the film and fired off a letter to editor Julie Simmons. The fabulous Tumblr blog Panel to Panel posted a photo of that letter and it might be some of Spielberg's finest writing.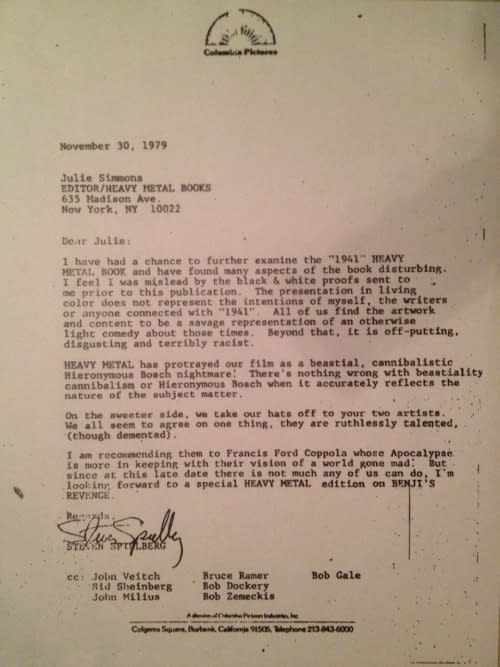 Though he found the end product "off-putting, disgusting and terribly racist," he praised Bissette and Veitch as "ruthlessly talented (though demented)." And though he felt the end product did not reflect "the intentions of myself, the writers or anyone connected with" the film, he was forced to conclude that "at this late date there's not much any of can do."
The director said he would recommend Bissette and Veitch to Francis Ford Coppola for a comic adaptation of Apocalypse Now. A suggestion that seemed to be as much a joke from Spielberg as his closing remark: "I'm looking forward to a special HEAVY METAL edition on BENJI'S REVENGE."
Enjoyed this article? Share it!