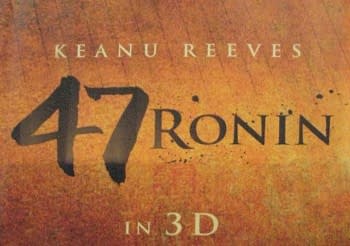 For his first feature, the accomplished and ambitious advertising director Carl Erik Rinsch set about filming a new version of the story of 47 Ronin. It is a rather expensive production, officially budgeted at $175 million, and stars Keanu Reeves alongside a range of Japanese actors.
Not too long ago, the film was bumped back in the schedule – twice, finally leaving it set for December 2013 – and buzz about reshoots and re-edits was swarming. The Wrap seemed to get a pretty good picture of the situation last night, saying:
The troubled 3D megaproduction has been taken over by Universal co-chairwoman Donna Langley, who is now overseeing the editing of the movie instead of the director, one of those individuals said.

The movie wrapped up a series of reshoots in London about one week ago, the purpose of which was to recapture key close-ups of lead actor Keanu Reeves and put him back in the center of the action in the film's most climactic scene.

The cost of Rinsch's tale has now climbed past $225 million, an individual with knowledge of the production told TheWrap. Factoring in both the budget and the millions the studio will spend to market the film, Universal would need more than half a billion dollars at the global box office just to break even.

A Universal executive disputed that figure and said the budget had not veered from its original $175 million figure, despite the reshoots.

[Reeves] was not even present in the final battle scene, whereas the new scene pits Kai against a supernatural creature.  In addition, the studio added a love scene, close-ups and individual lines to boost Reeves' presence.
None of that is particularly encouraging, right? Not the sort of thing you want going worldwide on a myriad of entertainment websites and blogs.
Amongst these sites were Slashfilm, who have supported Rinsch for a long time and, it seems safe to assume, have developed some kind of relationship with him. They certainly have an unnamed "source" to quote when talking about this situation.
The crux of their post is the climax. Here it is:
I heard rumblings of Rinsch being kicked out of the editing room a couple months back, so I'm wondering how true this timeline is, or what is the real story. I've been extremely impressed by Rinsch's commercial work, and have been following his career for a long while now. Rinsch is a filmmaker well versed in melding live-action with visual effects, able to deliver the fantastic at great speed and under budget. Tonight's reports don't seem to fit his MO. One thing is for sure, Universal has a conflicting vision of the film.
I'd guess that test screenings were involved somewhere along the line, even if only in-house ones. The studio appear to be making changes to the very nature of the film, not just how it's been realised. The new version is not just a new iteration of the screenplay as it was, but features new events.
There's possibly some cause for concern that they'll even go so far as to change the end of the story. It's not exactly an upbeat pay-off, I have to say, and not really the sort of thing that says WHIZZ! BANG! 3D Keanu Reeves Blockbuster!
Several films of the story already exist, and a number of them are pretty good. DVD copies of Mizoguchi's 2-part telling are relatively sparse, but well worth looking for; not quite so rare, and certainly more commonly screened on TV, is Chushingura with Toshiro Mifune.
Neither is in 3D, neither has CG, neither features a Hollywood star, and neither is going to be much talked about, advertised on bus stops or cropping up on a spread of big-name movie blogs in the next few months. Funny how this all works sometimes, isn't it?
Enjoyed this article? Share it!