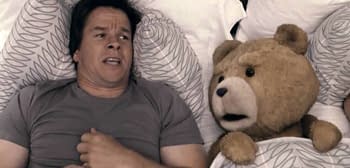 Mark Wahlberg has told the world that he'll be reuniting with Ted in March and then again in September, while squeezing the Transformers inbetween.
The March appointment is for part of the Oscars telecast. Wahlberg told Anderson Cooper that both he and Ted will be appearing during the show. I'll put the clip of Wahlberg and Anderson's chat at the foot of this story, with thanks to EW for the heads up.
Wahlberg then gave Examiner more details on his annual itinerary:
I could tell you that we're doing Transformers starting at the end of May, and then Ted in September.
And that's all he can really say about either, for now.
I dare say Transformers 4 is going to shoot for a lot more than three and a bit months, so my best guess is that Wahlberg's material can be rounded up and sliced off.
Ted's alter ego Seth MacFarlane also has the comedy Western A Million Ways To Die In The West in the pipeline and, judging from Wahlberg's comments, it will be coming after the Ted sequel.
[youtube]http://www.youtube.com/watch?v=VWGKSD7cDTM[/youtube]
Enjoyed this article? Share it!