Yes, we have our hopes set ridiculously high for the return of the real Sarah Conor (Linda Hamilton) in the upcoming 6th Cyberbyne Saga film, Terminator: Dark Fate. It isn't JUST because she's returning, but in Hamilton's own words, WHY she's returning to the iconic role of a badass mom trying to prevent the end of humanity.
"I didn't want it to look like a shameless money-grab, I wanted the script and the story where going to be worthy of carrying on the tale," Hamilton said during a red carpet interview. Yes. YES, this is exactly what we wanted to hear.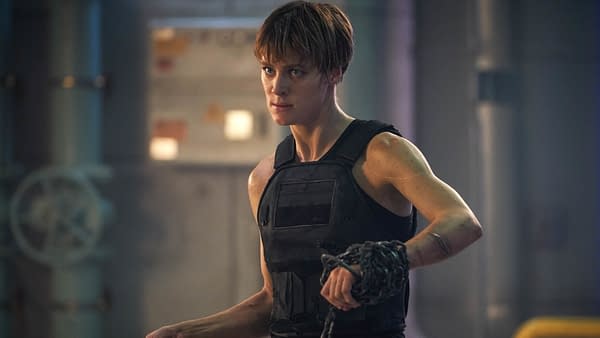 Pair that with the addition of Mackenzie Davis (Halt & Catch Fire, Blade Runner: 2049), Gabriel Luna (Marvel's Agents of S.H.I.E.L.D.), and the return of the original Terminator model himself Arnold Schwarzenegger, we're hoping Dark Fate blows us away.
We know we're getting the first trailer for the film tomorrow (Thursday May 23rd), and we just got a surprise new poster drop ahead of that: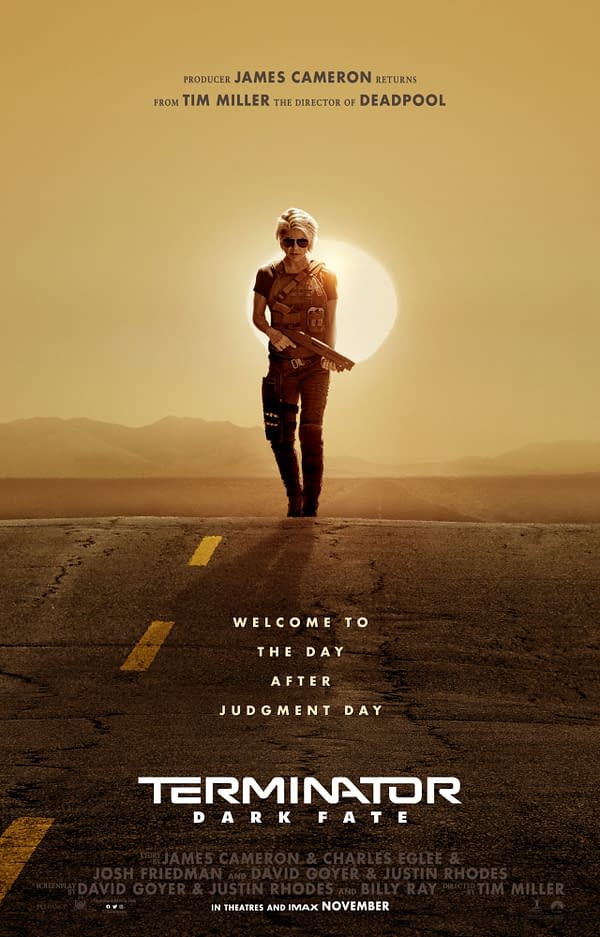 "Linda Hamilton (Sarah Connor) and Arnold Schwarzenegger (T-800) return in their iconic roles in Terminator: Dark Fate, directed by Tim Miller (Deadpool) and produced by visionary filmmaker James Cameron and David Ellison. Following the events of Terminator 2: Judgment Day, Terminator: Dark Fate also stars Mackenzie Davis, Natalia Reyes, Gabriel Luna, and Diego Boneta."
Tim Miller (Deadpool) is directing, and JunkieXL (Mad Max: Fury Road) will be doing the score!
We'll let you know as soon as that trailer hits tomorrow morning.
Expect to see Terminator: Dark Fate in theaters on November 1st, 2019.
Enjoyed this article? Share it!