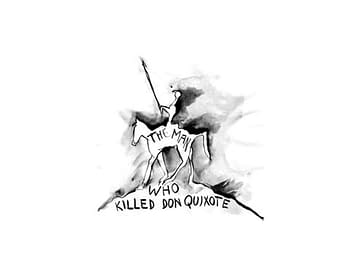 In recent months, Terry Gilliam has been reluctant to talk about The Man Who Killed Don Quixote, the film he has been trying to complete for over a decade. When I spoke to him in March, he backed away from the subject and said that he'd next want to chat about the film when there was something definite to say. He alluded vaguely to ongoing manoeuvres behind the scenes, but nothing that he wanted to jinx by discussing in public.
So I guess things have been getting firmed up beyond the point of such superstition, as Gilliam has now made an appointment to spill some new details.
According to La Repubblica, he will attend the Global Film & Music Fest in Ischia next month to receive the keys to the city and:
reveal some of the secrets of his next film, The Man Who Killed Don Quixote with Robert Duvall as Don Quixote.
All good. Nice to hear this pretty clear suggestion that Duvall is still on board, nicer still that Gilliam has some "secrets" to spill.
I expect the revelations might well unveil the casting of the lead character, Toby Grossini. That's the role Johnny Depp was going to play, many years back, and which was more recently associated with Ewan McGregor. It's the lead part, if not the title role.
Perhaps Gilliam will shock us all and reveal that Depp has come back – his calendar is definitely a lot less loaded right now than it has been for the last few years, so I guess it's not impossible, and it would definitely be enough to get the budget in line.
With this presentation set for July, I'm feeling optimistic enough to wonder if the film will go into production, once again, this year. It seems perfect for a late summer shoot.
More when we have it – which, by the looks of things, will be in July.
Enjoyed this article? Share it!