Terry Gilliam's Comic-Con Introduction, Director's Statement And The First Poster For The Zero Theorem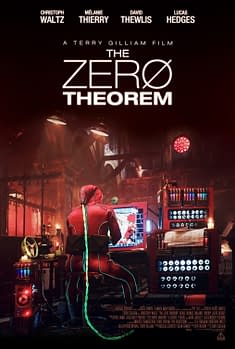 Not all of us were lucky enough to attend Comic-Con and if like me you were one of the unlucky ones, and you don't watch the bootleg videos that leaked out of the Con, then you may feel a little out of the loop.
Luckily Bleeding Cool was very well represented there and brought a lot of news back but I still feel a little disappointed that I didn't get to see some of the panels and footage shown. One of the panels that I would have been most interested in seeing wasthe one for The Zero Theorem.
Although director Terry Gilliam wasn't there to introduce the footage shown in person he did record a special introduction and he made an effort to make it nice and creative too.
That video has now been officially put online for us all to watch,
[youtube]https://www.youtube.com/watch?v=V_XJx-HNVUI[/youtube]
The Zero Theorem is set to premiere at the Venice Film Festival in a couple of weeks and a director's statement from Gilliam has just been published at the festival site. You can also read it in full below,
When I made Brazil in 1984, I was trying to paint a picture of the world I thought we were living in then. The Zero Theorem is a glimpse of the world I think we are living in now. Pat Rushin's script intrigued me with the many existential ideas he had incorporated into his funny, philosophic, and touching tale. For example: What gives meaning to our lives, brings us happiness? Can we ever be alone in our increasingly connected and constricted world? Is that world under control or simply chaotic? We've tried to make a film that is honest, funny, beautiful, and surprising; a simple film about a complex modern man waiting for a call to give meaning to his life; about inescapable relationships and the longing for love, full of quirky characters and sparkling performances; raising questions without offering obvious answers. Hopefully, it's unlike any film you have seen recently; no zombies, no caped crusaders or alien spacecraft. Actually, I might have lied about that last item. Having not worked with a budget this small for several decades, I was forced to work fast and instinctively, pressured only by time and money. We relied on the freedom to spin on a dime, to make outrageous creative leaps. The results surprised even me. I'm proud to have been part of The Zero Theorem.
A new poster also debuted online this week, which you can see at the head of this post and that I first saw at IMP.