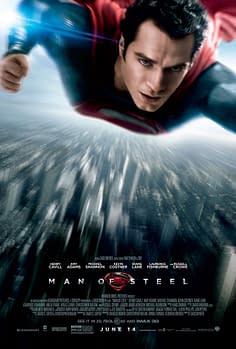 I've just been chatting with screenwriter David S. Goyer about Man of Steel. As well as discussing the film as it stands, we talked a little about the film they didn't quite make. The ideas considered but not, ultimately, pursued.
Specifically, Goyer told me about two deleted scenes. One was filmed, and the other was deleted from the screenplay. Here's some of what he had to say about those.
The finished film is relatively close to my first draft. I'd say it's 75% the same, 80%. All of the characters are the same and the basic structure is the same but there are a couple of tiny scenes that we cut out.
There was a little scene in which Jonathan and Martha take a baby Kal to a paediatrician because he's starting to experience these changes. They do a hearing test on him where they're dialling up these sounds and baby Kal screams and it blows out all the windows.
It was a funny scene but after the armageddon on Krypton – originally we went from that to baby Kal to the fishing trawler – it just felt weird. We didn't need it. Tonally it felt off.
Believe it or not there was another action scene – we didn't film it. After Zod first announces himself [the Krpytonians] provide a demonstration of their might. They drop Faora into Shanghai and NamEk, who is the big eight foot tall guy who doesn't speak, they drop him another foreign city.
It was another five pages of crazy Kryptonian destruction. We didn't need it. We knew that, my god, there's already a lot of action.
I'm certainly curious to see the baby Clark scene so I hope it turns up on the DVD and Blu-ray. It sounds like fun… though maybe I would have preferred a cameo by Letitia Lerner. Perhaps in the sequel, eh?
Next up: Goyer tells me how Man of Steel sets up the DC Movie Universe… and his answer is actually pretty specific. Stay tuned.
Man of Steel, as I'm sure you know by now, opens across the UK and US tomorrow, Friday June 14th.
Enjoyed this article? Share it!