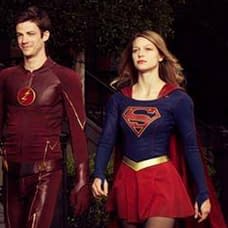 Some said it would never happen. Others were unsure if such a thing would be legal. But it seems whatever roadblocks may or may not have existed, Grant Gustin, star of The CW's The Flash will appear as the character in the March 28th Episode of CBS's Supergirl.
According to TVLine, further details have not yet been released, but in a statement from executive producers Greg Berlanti and Andrew Kreisberg said, "We are so incredibly excited to announce something that we have dreamed of happening since we starting making Supergirl."
Kreisberg previously made the claim that such a crossover could be legally difficult, but it is possible that was a smokescreen for the very real intent to have the two characters and realities meet. Back in November, Bleeding Cool heard such a thing was not just possible, but inevitable. Though, at the time, we heard the meeting would take place in May with the S.T.A.R. Labs team joining the Scarlett Speedster.
The Flash/Arrow crossovers have been a highlight of both series since The Flash began last year. With Supergirl produced by the same team, it seemed fitting that the two series should interact.
"Thanks to the fans and journalists who have kept asking for this to happen," the producers continued. "It is our pleasure and hope to create an episode worthy of everyone's enthusiasm and support."
Enjoyed this article? Share it!