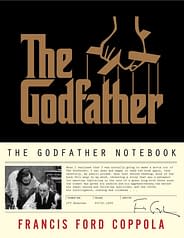 In one of the special features for The Godfather Trilogy Blu-ray and DVD box sets, director Francis Ford Coppola revealed pages from a large binder in which he kept notes during the production of the films. And according to Entertainment Weekly, Coppola will be offering its contents to film fanatics this fall.
The Godfather Notebook will be a 720-page tome of the director's thoughts while producing the films. It will come complete with notes on casting — perhaps even Coppola's plan to get Al Pacino approved by Paramount Pictures brass for the role of Michael Corleone — locations, and story notes as he read Mario Puzo's novel. It will also feature never-before-released photos from the set.
As a fan of the films, I think this will go on my holiday wishlist next to that box set chronicling Stanley Kubrick's attempts to make his version of Napoleon.
Priced at $50 — according to Amazon — The Godfather Notebook will be available November 15th from Regan Arts.
Enjoyed this article? Share it!