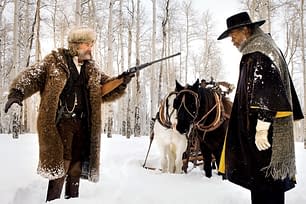 Quentin Tarantino fans eager to see The Hateful Eight, but far from one of the forty-four cities getting the movie on Christmas Day won't have to wait too much longer. The film originally scheduled for wide release on January 8th, and then January 1st, will now open wide on December 31st, according to The Hollywood Reporter.
Those Christmas Day openings will feature Tarantino's "Roadshow" presentation of the film in 70mm which will be six-and-a-half minutes longer than the general release version, not unlike the epic Westerns that inspired The Hateful Eight. Kurt Russell, Tim Roth, Michael Madsen, Samuel L. Jackson, James Parks, Walton Goggins and Jennifer Jason Leigh star in this film about eight unsavory people caught in a blizzard.
Enjoyed this article? Share it!