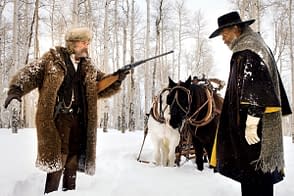 At one time, The Hateful Eight, Quentin Tarantino's eighth film, was planned for a wide release on January 8th. It then moved to the 1st of January, then December 31st. Now, Deadline reports the 1,958 expansion begins with preshow screenings tonight and a full release tomorrow.
The decision was made following the success of the film's roadshow presentation in 70mm. According to The Weinstein Company President of Distribution Erik Lomis, the demand for the film has exceeded the company's abilities to exhibit it in 70mm. "We're greatly looking forward to bringing it to more theaters and cities and give Tarantino fans across the country the chance to experience this brilliant, intensely fun piece of filmmaking," he said in a statement.
The success comes after a threatened boycott of the film by police unions following Tarantino's statements in October regarding a number of police officers accused of murder and excessive violence.
And while the film's expanded release will see the film exhibited via digital avenues and projectors, the 70mm presentation will continue.
Enjoyed this article? Share it!