The IT Crowd To Return For One More Episode, Filming In The Next Few Weeks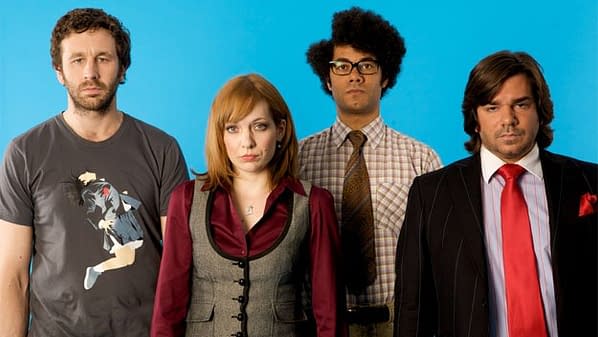 Tom Huxley writes.
The IT Crowd is set to return later this year for one last time. You read it here first.*
Series creator and writer of the Channel 4 sitcom set in a company's IT department, Graham Linehan just announced during an IT Crowd Q&A at German conference re:publica that the long-teased special, which he has previously stated will serve as the finale to the series, will be filmed in three weeks' time.
The script for the forty-minute special was written over a year ago, but the actors, including Richard Ayoade, Katherine Parkinson, Chris O'Dowd and Matt Berry, have been too busy with other filming commitments – and in one case a pregnancy – to work on it until now.
In the meantime Linehan also announced that his new TV sitcom Count Arthur Strong, based on the character that has been appearing in Radio 4 sitcoms for a few years, is expected to be broadcast on BBC Two in June. It was filmed in January, so that might give you an idea of when the IT Crowd special will be broadcast…
*Brendon's note: Not literally. As Tom says in the very next paragraph, this was actually all announced already quite some time ago. Today's announcement simply tells us that it's going to happen in the next few weeks, which is good to know. But it has been in development and pre-production for the past two and a half years.