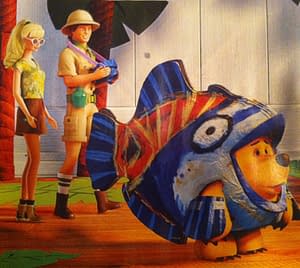 We can look forward to the next Toy Story Short, of the three in this "first wave", to play before The Muppets. In the US, that means at Thanksgiving; in the UK that means the cruel, distant iciness of February. Why must we wait so long?
Now. Ahead of the weekend's D23 fan expo, the official Disney Pixar Twitter feed has revealed that the Toy toon is going to be called Small Fry. The last one's title, Hawaiian Vacation, had a pretty straightforward, descriptive relationship to the storyline – see the image to the left for a wisp of evidence.
So, bearing that in mind, what do you think Small Fry might be referring to?
More is bound to bubble up as D23 unfolds over the weekend.
UPDATE: The news comes from the already-in-progress D23, just via the Tweet. Angus MacLane is the director. He's obviously a good guy.
SECOND UPDATE: The story is about Buzz Lightyear's attempts to get home after being left in a fast food restaurant. He meets a series of Happy Meal-style toys, who are actually rather unhappy. One of them, a mermaid, is being voiced by Jane Lynch.
Enjoyed this article? Share it!