The Pentagon Unleashes Gerard Butler on the Washington Press Corps
Washington reporters have been complaining for months about being frozen out (as they see it) by the Pentagon on all topics military. Amid forces engaged in the Middle East and tension in the South China Sea, the press is bristling that there's never anyone at the Pentagon podium available or willing to give them the facts and answer their questions. Pentagon spokeswoman Dana White hasn't held a press conference with reporters since May.
Well, the fourth estate's cries were not for naught as on Monday, Secretary of Defense Jim Mattis granted the reporters an audience with–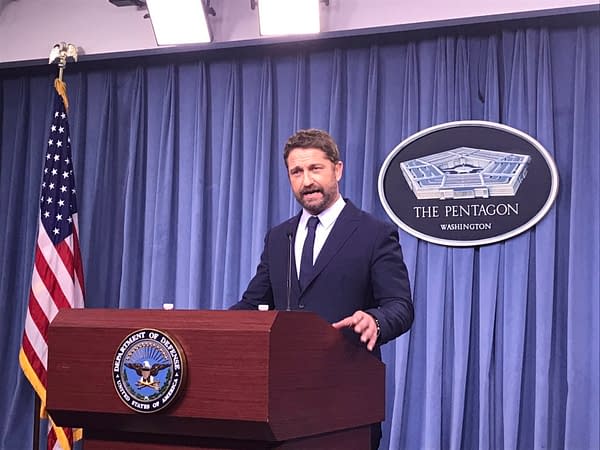 Gerard Butler.
Butler (300, Olympus has Fallen) was on hand to discuss his upcoming film Hunter Killer. In the film, Butler leads a group of Navy SEALS in an effort to avoid global war by rescuing the President of Russia, no doubt making the film a favorite of the President's and perhaps a model of future foreign policy.
Stepping into the role of statesman at the Defense Department podium, the Scottish Butler shared that a promotional event in Riyadh had been scrapped in light of the recent disappearance and presumed murder of Washington Post reporter and Saudi Arabian dissident Jamal Khashoggi at the hands of the Saudis. Butler noted that even though he "felt very badly for the film company," they decided it might not be the most opportune time for a media event.
"It just didn't seem like a situation that we would want to get into."
While reporters might be forgiven for wondering if Butler's appearance was simply a way for the administration to troll them, the presser did go smoothly. Flanked by Navy "advisors," Butler heaped praise on the submarine crew he had traveled with during production, citing the "brilliance and the humility of the sailors I worked with." He also referred to the submarine itself as "like an alien planet, but just fascinating."
On the other hand, maybe it was an audition for another role entirely. It's an open secret in Washington circles that Secretary Mattis is on borrowed time at the post. The same President Trump, who thought Omarosa Maginault was a good fit for the West Wing might well like to see more of this from our armed forces.
Hunter Killer is set to hit theaters on October 26th, 2018.