The Thief And The Cobbler Workprint To Be Screened, Watch Highlights From Richard Williams Academy Talk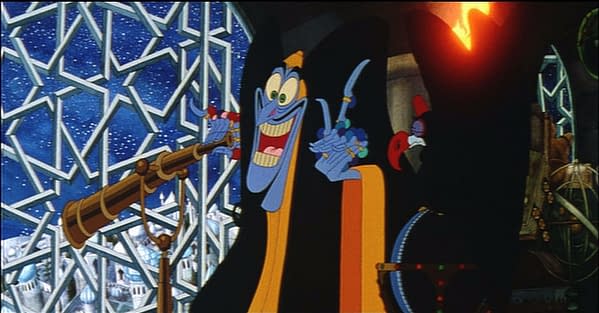 I adore Richard Williams' The Thief and the Cobbler but watching any of the versions that are available – The Princess and the Cobbler, Arabian Knight, the workprint and the Recobbled cut – is a bittersweet experience.
Williams worked on the film for over a quarter of a decade but ultimately lost control of the film and we've therefore never seen his finished version. What we do have though is still remarkable and if you are perhaps only familiar with Williams through is work on Who Framed Roger Rabbit then I would urge you to seek out The Thief and the Cobbler.
Williams was invited to give a talk at The Academy last Friday for an event entitled 'This Amazing Medium' and he spoke about a number of topics, including his inspirations and his career to date.
He also showed two clips from recent work which were summarised in the official Academy write-up as,
…two dazzling glimpses of Williams's most recent work: "Circus Drawings," a poetic animated film using his own drawings created 57 years ago (created with his wife, Imogen Sutton, who was also in the audience), and a breathtaking snippet of his work in progress, "Prologue," which he also humorously called "Will I Live To Finish This?"
The clip from 'Prologue' was reportedly 25 seconds long and every comment and Tweet I've seen regarding it has been incredibly positive.
The Academy have also posted some video highlights from the event online, which you can watch below. I was alerted to the videos by Cartoon Brew, who also mention in their write-up that Williams has agreed to a screening of the workprint of The Thief and the Cobbler at The Academy in December.
Exciting news and I really do hope it's the beginning of something. Now, how do I get a ticket to see it at The Academy? And who fancies lending me the money for a plane ticket?
Below are all the video highlights from Williams talk.
Richard Williams Remembers Milt Kahl and The Jungle Book
[youtube]http://www.youtube.com/watch?v=Z4nd2oTCTcM#t=16[/youtube]
How Disney Animated Classics Inspired Richard Williams
[youtube]http://www.youtube.com/watch?v=LUerENPKvRU[/youtube]
The Making of Richard Williams's A Christmas Carol
[youtube]http://www.youtube.com/watch?v=k4Y0aOcmY_o[/youtube]
Making Who Framed Roger Rabbit with Richard Williams
[youtube]http://www.youtube.com/watch?v=2biiO3uIxOE[/youtube]