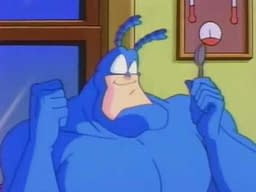 The Tick will live again! As reported by Deadline, Amazon has ordered a new pilot based on Ben Edlund's The Tick with Edlund and Barry Josephson returning to produce. The pair produced the short-lived 2001 series.
Griffin Newman will play Arthur and The Following's Valorie Curry will play his sister Dot. The pilot will see a discredited Arthur reunited with an amnesiac Tick to fight crime in The City. Sadly, the previous live-action Tick, Patrick Warburton, will not return to reprise his role and the production is currently looking for a new square-jawed fellow to fit into the tights of the title character.
Transcendence director Wally Pfister is said to be in talks to the direct the pilot. While it is unclear if Amazon will take the project straight to series, the streaming service is known for its pilot season season screenings for subscribers. The recent The Man in the High Castle emerged from last year's pilot season.
Enjoyed this article? Share it!