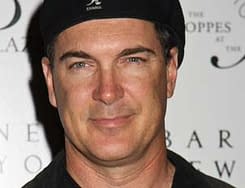 Patrick Warburton will play Lemony Snicket in Netflix's upcoming series based on the fictional author's A Series of Unfortunate Events.
The series will center on orphaned children Violet, Klaus and Sunny Baudelaire as they counter their evil uncle's attempts to get his hands on the family fortune. Malina Weissman and Louis Hynes were previously announced as the older Baudelaire children with Neil Patrick Harris as the evil uncle, Count Olaf.
Warburton's Snicket will be a "harried and troubled writer-photographer who is falsely accused of felonies and is continuously hunted by police and his enemies," according to The Hollywood Reporter.
The real life Lemony Snicket, author Daniel Handler, will serve as an executive producer on the Paramount Television series.
Enjoyed this article? Share it!