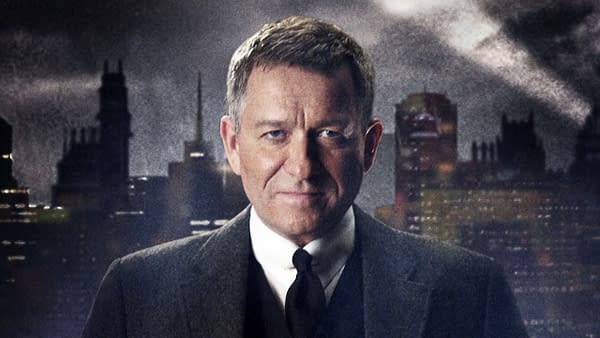 Gotham's Sean Pertwee has another geek bonafide in a addition to playing comics' most famous butler — with all apologies to Edwin Jarvis — his father Jon Pertwee was the third Doctor Who from 1970 to 1974. And, as the actor tells the Radio Times, he was offered a role on the show last year.
"I was asked actually last season. I couldn't do it because of Gotham," he said in a recent interview. "I'd love to be in some capacity be involved, as an ode to my father and to Roger Delgado, who was my dad's best friend, who was the Master." Pertwee has also previously expressed interest in becoming the Third Doctor should any of the older Doctors feature in an episode or anniversary special.
His startling resemblance to his father — particularly when dressed in the Third Doctor's attire — would seem to make it seem a natural fit to bring him on in the part, but it is unclear what role he was actually offered. As the Radio Times points out, Second Doctor Patrick Troughton's sons David Troughton and Michael Troughton have both appeared on the revived program in other parts.
Perhaps his unavailability last year will someday lead to an appearance as the Third Doctor. Of course, that could be wishful thinking from someone who has enjoyed the work of both Pertwees over the years.
Enjoyed this article? Share it!