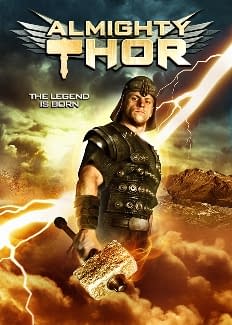 Don't think Kenneth Branagh was the right choice for the Thor gig? How about Christopher Ray? Would he be a friendlier proposition? He is Fred Olen Ray's son, you know…
Announced at last month's AFM was a truly inevitable production by the name of The Almighty Thor. What, not 1472: The Almighty Thor?
The movie comes from Asylum, home of the mock/schlock-buster knock off picture and centre of a cult I can't quite understand. That's their sales art for this picture up there, courtesy of The Film Catalog. Here's the blurb for the movie:
When the demon god Loki destroys the fortress of Valhalla and steals the Hammer of Invincibility, only the young hero Thor can protect Earth from armageddon.
According to the studio, model-turned-actor Cody Deal has been cast as the God of Thunder and big, hairy wrasslin' man Kevin Nash will be playing his big poppa Odin. Nash, you may recall, was in the Jonathan Hensleigh Punisher movie as The Russian.
21 Jump Street's Richard Grieco is playing "demon god Loki". Patricia Velasquez, Lauren Halperin and Nicole Fox have roles too; Velasquez as the giantess Jamsaxa, the latter two as Brunette and Redhead Norn respectively. Anybody want to place bets on who'll win the coveted role of Blonde Norn?
The cinematographer is Alex Yellen, who is shooting the film on a Red camera at 4k resolution, as he has several other Asylum films in the past. He's nothing if not consistent and professional.
As you might expect the direct-to-disc film is being timed for release just a week and a half before Marvel's movie rolls out in cinemas. In the meantime, if you want a taste of what director Chris Ray is capable of, here's the trailer for his last movie, Mega Shark vs Crocosaurus.
What are the odds on The Asylum crossing over their franchises in a tuppence-ha'penny version of The Avengers? Odder things have happened…
Incidentally, I'm thrilled that Kenneth Branagh is behind the wheel on Marvel's Thor, I'm just aware that there were some dissenting voices.
Enjoyed this article? Share it!