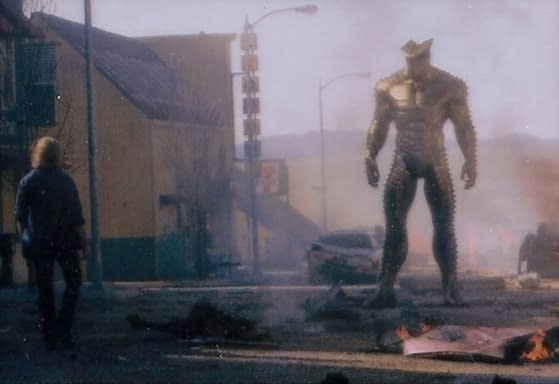 Disney have officially announced the release of Patrick Doyle's original soundtrack for Thor, and sent out a tracklisting for the album. Take a look at this rundown of choons – it's effectively a vague skeleton of how some of the film's key plot points are ordered.
Or, if you're scared of spoilers, don't.
1. Chasing The Storm
2. Prologue
3. Sons Of Odin
4. A New King
5. Ride to Observatory
6. To Jotunheim
7. Laufey
8. Frost Giant Battle
9. Banishment
10. Crisis In Asgard
11. Odin Confesses
12. Hammer Found
13. Urgent Matter
14. The Compound
15. Loki's Lie
16. My Bastard Son
17. Science and Magic
18. The Destroyer
19. Forgive Me
20. Thor Kills The Destroyer
21. Brothers Fight
22. Letting Go
23. Can You See Jane?
24. Earth To Asgard
Wait – Thor kills the Destroyer? The Destroyer doesn't win? And then some brothers had a fight? And then someone wanted to know if somebody else could see someone called Jane?
Yep. These soundtrack listings just rip the lid off the secrets box.
Enjoyed this article? Share it!