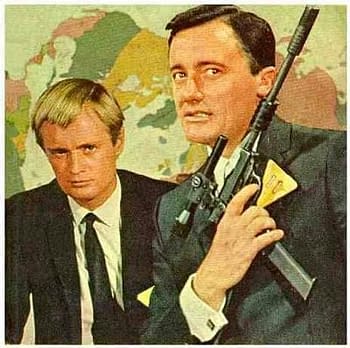 Once upon a time, the big budget do-over of 60's spy series The Man from UNCLE was going to be a Steven Soderbergh film with a script by Scott Z. Burns, his Side Effects, The Informant! and Contagion collaborator. It sounded like the kind of movie I'd crawl through broken glass to see.
Then would-be lead George Clooney put his back out in a bad way and the film fell apart.
Surprisingly, Warner Bros. resurrected it with Guy Ritchie in the hot seat, and Tom Cruise joined up.
Tonight, though, Deadline are reporting that Cruise is out.
This, to me, is the most remarkable part: the studio are pressing ahead and simply looking to replace him. I swear, this film seems to have more lives than We're The Millers.
Ritchie is apparently saying on with already cast co-stars Armie Hammer and Alicia Vikander, and while the script has been rewritten by Max Borenstein, some elements of Burns' work remain.
Cruise's motivation, apparently, is to get Mission: Impossible 5 into tip-top shape. No Heroics and Iron Man 3's Drew Pearce has recently committed to write that one, with Way of the Gun and Jack Reacher's Christopher McQuarrie in line to direct.
Who could Warner Bros. possibly secure that has the star power to justify – in their mind at least – the budget for this film? The only candidate that seems suitable to me, off the top of my head, is Robert Downey Jr. But will they want to pay that much? And will he really want to leap into another action movie franchise?
Enjoyed this article? Share it!