It's no secret Star Wars: The Last Jedi had a wealth of cameos (30+ as a matter of fact), and we're only beginning to find out the details of who was who underneath those First Order Stormtrooper helmets.
We talk a lot about the cameos and special inclusions we noticed, but one we've been waiting for confirmation on: Tom Hardy. (And also their Royal Highnesses Prince Harry and Prince William).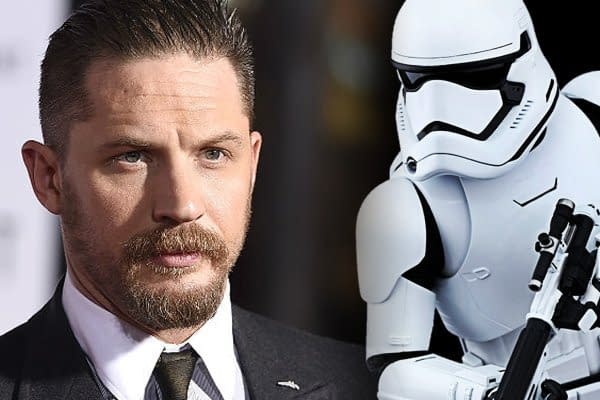 According to Slashfilm (but be warned, there ARE spoilers in their article if you haven't seen Star Wars: The Last Jedi yet) Hardy was featured as a First Order Stormtrooper in a scene with Finn (John Boyega) and Rose Tico (Kelly Marie Tran) disguised as officers in an elevator.
The scene description reads:
A group of stormtroopers get in the elevator and our heroes are nervous they are going to get caught. One of the stormtroopers slowly turns to Finn and gives him a look. Finn turns around in his Imperial officer uniform and asks him what his problem is. The stormtrooper, played by Hardy with a southern accent, says "I know who you are… FN 2187! Damn boy, I never took you for officer material!" The tension is cut by the reveal that the two grew up together, but the troopers are somehow unaware of FN's treason. While Finn's act of desertion is a legend in the Resistance, maybe the First Order hid that information from their army so others might not get the same idea.
Maybe this is the infamous 'elevator' scene that Boyega keeps talking about, originally believed to be the cameo location for the Princes. (Although I personally still think William and Harry are the two axe troopers.)
Hardy originally posted this image of him on set, which has now been deleted from his Instagram. Thanks to this fan page, though, for catching it!
Star Wars: The Last Jedi is currently in theaters across the galaxy.
Enjoyed this article? Share it!