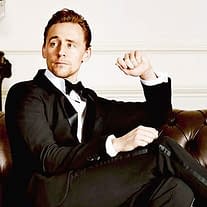 It will soon be a holiday weekend in certain parts of the world and a couple of interesting rumors have popped up to fuel discussions over barbecues, drinks or the adult-sized bouncy castle.
First, we start with Birth.Movies.Death's claim that Tom Hiddleston (not Michael Fassbender) is already in negotiations to become the next James Bond 007. They note it may be a ploy to get current Bond Daniel Craig to commit to more films, but perhaps it is time for the secret agent to switch personas again. Personally, I think the movies need a new writing team more than new Bond, but a new actor in the role is always the flashier change.
Meanwhile, Heroic Hollywood reports that Sony's forthcoming animated Spider-Man film will feature Miles Morales as its lead character. Which, if true, would be a simple and effective way to differentiate it from the MCU Spidey played by Tom Holland. The film, whether it stars Peter, Miles or Gwen, will be written by Phil Lord and Christopher Miller. It also has a December 21st release date, so if Miles really is the new animated Spider-Man, that decision must've been made some time ago.
Of course, as always, these are unconfirmed rumors and time will tell if any of it is close to true. In fact, it will be interesting to see if either one gets confirmation or denial over the next few days. In the meantime, feel free to debate the relative merits — or veracity — of either one.
Enjoyed this article? Share it!