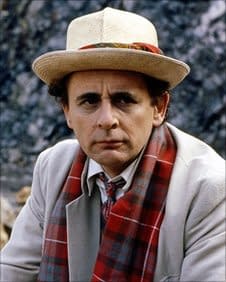 Outside of the UK, the BBC's flagship news programme Newsnight might best be known, at least right now, for getting caught up in sexual abuse scandals. I have a feeling that tonight's episode might prove pretty popular worldwide, though, as they're promising to discuss a hot button nerd issue: was Doctor Who rubbish in the 80s? You do all know how to access the iPlayer from overseas, right?
Newsnight have spoken to Sylvester McCoy and series writer and script editor Andrew Cartmel, and perhaps more, and the full findings of their investigation, if we're going to call it that, will screen in the show sometime after 10.30pm tonight.
Already, though, there are interview clips with McCoy and Cartmel available at the BBC's website.
There are arguments both for and against the Who I saw in the 80s, but I think I'd generally find against it. To be honest, I'd generally find against the Who of the 00s too. I did fall properly head over heals with the show during Moffat and Smith's first year, and I still do love most of those episodes, and a good handful of the ones that have followed, but…
…well, a lot of this show is just not good enough. There's a lot of repeated ideas, a terrible over reliance on both wiffly waffly exposition and reset buttons. And I wonder if it's going to date as badly as the 80s stuff, because some of it is borderline ugly already.
And I wonder if all of this talk about pre-cancellation Who is rooted in something a little deeper than this being the anniversary year? I do think that, collectively, we're all a bit anxious about the show, this little rough thing, full of flavour and idiosyncratic swerves but not, really, as consistent or well thought out as perhaps ought to be.
Though, yes, it's probable that for a lot of today's grown up audience, and the people making things like this Newsnight segment, the most vivid of "old Who" is the 80s stuff.
I envy the kids, in a sense. The fans who came in after a pretty clean break and don't carry all of that old baggage around with them. But then again, if The Eleventh Hour was the first ever episode you'd seen – or Blink, perhaps, or Vincent and the Doctor or Amy's Choice – then you might have been very disappointed to learn it isn't always that rich or smart or worthwhile at all.
Enjoyed this article? Share it!