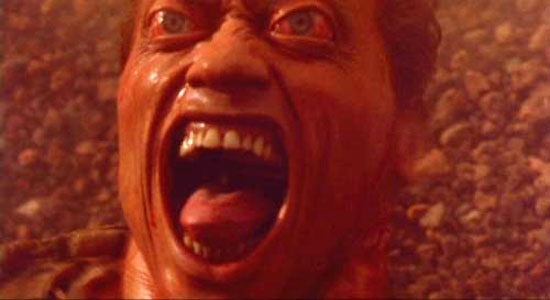 The new Total Recall, with a script by Equilibrium's Kurt Wimmer and directed by Underworld's Len Wiseman, is now set to finally get rolling in March. Wow. I'm feeling pretty deflated already and I'm only three sentences in. Rarely has a film seemed so uninspiring.
Will the casting buoy me? Well, according to The Hollywood Reporter, the studio's pick is Colin Farrell. I'm still sinking. Not because I don't like Farrell, but because I think he can be finding better things to do.
Of course, the film wubz being what they are these days, we're hearing about this even before Farrell has been offered the role so there's not much reason to assume he'll actually take. Chalk it up as "likely" and wait for more.
But I think it's really interesting to note that this project is a new Total Recall and not a new take on We Can Remember It For You Wholesale – the former being the Paul Verhoeven-directed, Arnold Schwarzenegger-starring movie, the latter being the Philip K. Dick short story that it was originally derived from. It doesn't seem that fashion of "It's not a remake, it's a new adaptation" is being worn here. Maybe they just think audiences are going to want all of the new gubbins that Ronald Shussett, Dan O'Bannon and Gary Goldman are cooked up for the last film.
Here's an idea: maybe they can get all meta and the first film can be revealed as a simulation-delusion in this one. Or (heck, why not) vice versa.