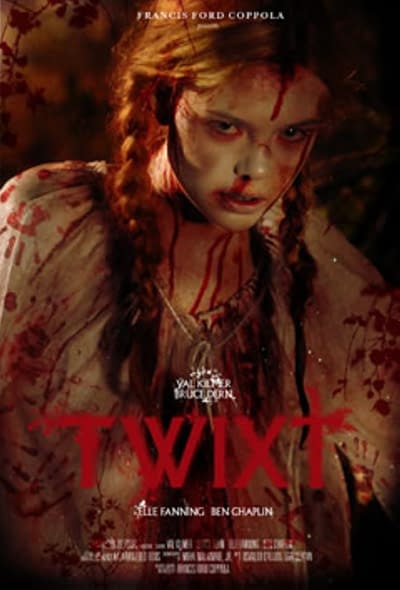 Here's the trailer for Francis Ford Coppola's gothic horror gimmick picture Twixt, formerly Twixt Now and Sunrise, with Val Kilmer and Elle Fanning, and Ben Chaplin as Edgar Allen Poe.
This is not, appropriately enough, either of the edits shown at Comic-Con.
[youtube]http://www.youtube.com/watch?v=CtLHPKigPc4[/youtube]
Coppola's big idea here is that Twixt will tour as a roadshow and he will re-edit it on the fly during every performance, at least to to some basic degree. As a result, the full film is not going to possess an over-arcing, well considered structure, with every detail judged in relationship to everything else, as you might imagine that this trailer has.
Nope, Coppola is isntead looking to invest his film with all of the "thrills" of watching somebody else play Dragon's Lair while occaisonally putting on or taking off a comedy cardboard mask of Edgar Allen Poe.
What a red herring.
There are some virtues in this trailer that should translate to the full film, of course – the cinematography is certainly interesting, and several of the compositions seem to be rather adroit, at least in this context.
Twixt will play at Toronto, then on Coppola's tour, and then probably be available as some kind of special proprietary download for the iPad or something.
Enjoyed this article? Share it!