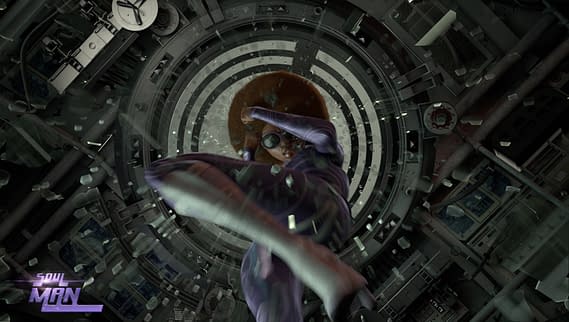 Six minutes of Guillame Ivernel's Soul Man were premiered at European toon symposium Cartoon Movie in early March, and word was good. Now a short teaser video has arrived online and it has cult movie written all over it.
[vimeo]http://vimeo.com/21638773[/vimeo]
That clip is being promoted by XLRender, a software company positing an in-the-cloud solution to the heavy load of CG rendering. It would look like their idea works pretty well.
The film's producers, Blacklight Movies, have a mission statement on their site. Here's an excerpt:
The central and main objective is to position, exploit and monetize the film asset as an entertainment franchise and brand present on various channels and with various formats both surfing on, and even generating pop (popular) culture content.

According to ideal timing for 3D stereoscopic content in Theater, 3DTV, VOD and IPTV, we at Balcklight Movies are driven by inspiring projects to set up up a new achievement in 3D stereoscopic Animation Industry and commanding a High Value for Money.

Creativity, experience, originality, artistic intentions AND hardheaded economic thinking are the basis of Blacklight Team. We have a firm grip on budget and we want the highest possible value for money. For each project, we want to create a financial structure that complements the global talent pool we've built, putting the best that every country has to offer into the mix in terms of technology, design, music or writing.

We are deep convinced that the Time has come for inspired Films for the worldwide « grown ups » audience.
I'll stop right there. They're about to define "grown ups" as teenagers and adults, and my response to that will just make me sound like a fuddy duddy.
Enjoyed this article? Share it!