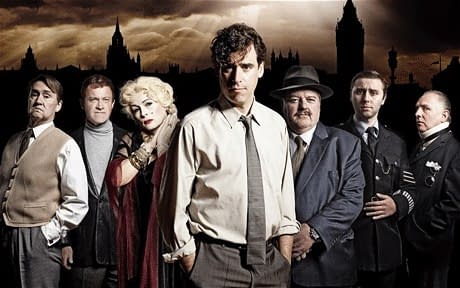 Airing this Friday on Channel 4 is The Hunt For Tony Blair, the latest, long awaited reunion for the Comic Strip crew. At least, many of them – and with a few new recruits plucked from the ranks of The Inbetweeners, Green Wing and other recent Channel 4 hits.
I told you more about the show back in the summer, and ran this tidy little press release at that time too:
Prime Minister Tony Blair (Stephen Mangan) is wanted for murder and on the run. Escaping from Number 10 and leaving behind his adoring wife Cherie (Catherine Shepherd), Tony vows to clear his name no matter what the consequences.

But on a foggy London night, Tony has few friends willing to harbour a wanted man and with front pages demanding his capture, Blair has no choice but to go on the run, with Inspector Hutton (Robbie Coltrane) and his sidekick (James Buckley) hot on his trail. The chase unfolds thanks to evidence gleaned from his 'allies' Mandelson (Nigel Planer) and Brown (Ford Kiernan), as well as an unlikely encounter with Margaret Thatcher (Jennifer Saunders – a la Bette Davies in 'Whatever Happened to Baby Jane'). Surely Tony's an innocent man, pursued for a crime he didn't commit?

The cast also include Harry Enfield as Alistair Campbell, Rik Mayall as Professor Predictor, Morgana Robinson as Carol Caplin, John Sessions as Thatcher's butler and Ross Noble as an 'old Labour' Tramp.
And here we are, just three months later and it's about to air. Efficient.
Here's the trailer.
[youtube]http://www.youtube.com/watch?v=qZAZboz8reI[/youtube]
You can see several of the cast in interview at Channel 4. The show itself airs at 9pm this Friday, October 14th – or if you're watching Terry Gilliam's Damnation of Faust on BBC4 at that time, you could go for 10pm on Channel 4+1.
Enjoyed this article? Share it!