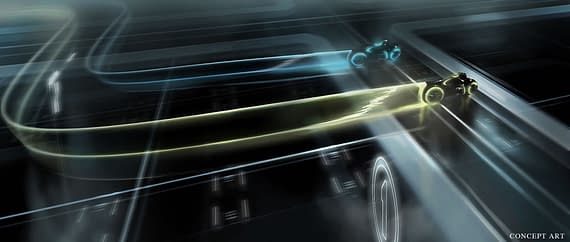 In what would very easily pass as a hype-churning press release, especially as it was timed to the release of the DVD and Blu-ray, Deadline have revealed that Joseph Kosinski and TRON: Legacy screenwriters Edward Kitsis and Adam Horowitz really are woking on another TRON.
I suppose the reasons why are fairly plain to see. Legacy is destined for a long life on DVD and Blu-ray, and will no doubt rack up a reasonable profit sooner or later; perhaps more importantly, Disney see this as a franchise that could really kick to life for them in future, whether that's with a better, or at least better performing, third installment, or through ancillary TV tie-ins, videogames and toys.
This is why we're getting Cars 2, and Planes from the very same studio. The difference in that case is that Disney are putting a tried and tested creative team – ie. the Pixar brain trust – behind the wheel. With TRON, they're handing the keys back to the people who crashed last time around.
I think Kosinski could do a better job given another crack of the whip, but Kitsis' and Horowitz's work on Legacy was so subpar that I can hardly hold out hope for their contribution. Fingers crossed, though.
Also note: the same Deadline story say that Tom Cruise is "interested" in Oblivion, aka Horizons, the film that Kosinski is now shopping around away from Disney after they ditched. If Cruise "attaches" that should help convince some studio or another to step up.
Enjoyed this article? Share it!