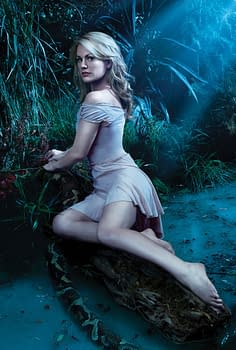 True Blood is going to make it to seven series but, as HBO have announced today, its 2014 season is to be the last.
According to the network's president, Michael Lombardo:
True Blood has been nothing short of a defining show for HBO. Alan Ball took the books by Charlaine Harris, assembled a brilliant cast led by the magnificent Anna Paquin in the role of Sookie Stackhouse, and crafted a show that has taken its many devoted fans on an unforgettable journey.

Alan passed the baton to Brian Buckner, who led our fantastic writers and crew in crafting a spectacular sixth season, and he will lead us through the seventh and final season of this amazing show. Together with its legions of fans, it will be hard to say goodbye to the residents of Bon Temps, but I look forward to what promises to be a fantastic final chapter of this incredible show.
I've never much cared for True Blood but I'll at least agree that Anna Paquin is magnificent. Okay, that she was magnificent in Margaret. And The Piano. And she made a pretty good Rogue. I don't know how good she was, or wasn't, across the whole span of True Blood.
And it's always nice when a show gets a full season's warning before having to wind down, too. This suggests they'll be able to bring things to a satisfying climax, that the fans won't be left hanging for a straight-to-Netflix movie that will never come.
Enjoyed this article? Share it!