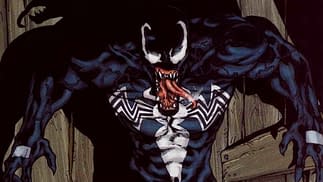 When Marvel and Sony came to an agreement about using Spider-Man in the Marvel Cinematic Universe, it put a pause on all of Sony's plans for spinoffs from the webslinger's series.
But according to The Hollywood Reporter, the Venom spinoff is back on Sony. The script will be written by Dante Harper and be set apart from the MCU Spider-Man film. Amazing Spider-Man producers Avi Arad and Matt Tolmach will oversee the project.
Venom was one of a number of project Sony announced as The Amazing Spider-Man 2 was prepared for release. The plan, at the time, was to give the member of the Sinister Six a film of their own before the group assembled to taking on Spider-Man. Venom, always a popular Spider-Man villain, was also put into development as a solo lead. All plans were put on hold when The Amazing Spider-Man 2 underperformed at the box office and the studio began a dialogue with Marvel to have Peter Parker join their film world.
Venom is envisioned as a completely separate entity from the current and previous Spider-Man incarnation with an eye towards establishing its own franchise.
Enjoyed this article? Share it!