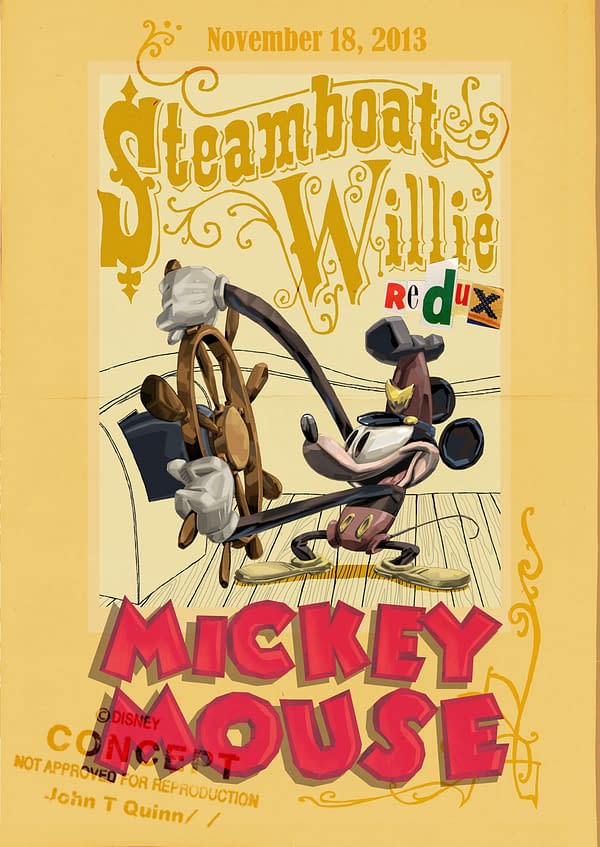 On November the 18th 1928 Steamboat Willie premiered at Universal's Colony Theater in New York City and in the eight-five years since it has remained one of the most famous cartoons ever made.
November the 18th 1928 was also the birth date of Mickey Mouse and to celebrate these two important anniversaries Disney are remaking the Steamboat Willie short, under the title Steamboat Willie Redux, and premiering it at this year's D23.
You can see the poster for this redux at the head of this post, found on Tumblr by StitchKingdom. This was originally posted on Tumblr by Disney artist John Quinn, who also posted images from Steamboat Willie Redux to his blog and to Instagram, which were found by StitchKingdom and Seppe at Animateblog.
We've also managed to find a video of a section from Steamboat Willie Redux, at Matthew Shepherd's Vimeo page, which you can watch below. The Steamboat Willie Redux footage can be found around the 16 second mark.
[vimeo]http://vimeo.com/68600734[/vimeo]
And some more images from Matthew Shepherd,
So, we're looking at multiple animation styles for this redux. This seems like a really fitting way to pay tribute to such an important piece of animation history, by simultaneously paying tribute to multiple styles of animation.
Lets hope we won't have to wait to long to see it outside of D23.
Enjoyed this article? Share it!