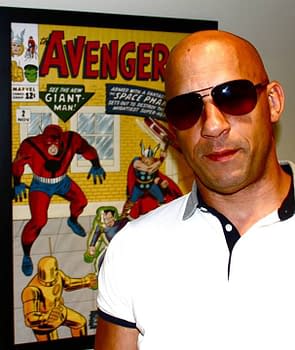 The earliest of Vin Diesel's teases about working with Marvel seemed to have little or nothing to do with Groot or Guardians of the Galaxy even while that's where we've now ended up.
The reason for this is apparently quite simple – the studio were initially planning for him to play another role.
Speaking to The Hollywood Reporter, Diesel said:
There was a while there where the fans were really demanding an immediate answer. What we were initially talking about was a fresh IP. And that was the focus of our conversation, a fresh IP that would come out in 2016 or 2017 and potentially launch the third phase. When we went to Comic Con, we realised that people wanted something a little bit more immediate. But with my production slate, with my schedule, it was almost impossible to imagine I could do anything immediate.

I guess that after they watched Iron Giant, or whatever, they came up with this idea of taking this, the strangest Marvel character that's ever hit film and thought about what I could do with that with motion capture and with my voice.
The film has been shooting without Diesel on set so any motion capture would be executed after the fact, not in interaction with the cast in the middle of takes. That's very much the way it used to work, before Avatar and the new Apes movies.
I think Groot is the perfect Marvel role for Diesel. There's nothing else I'd rather see him play, so whatever those earlier discussions were about – I can only guess Black Panther, really – everything has shaken out for the best in the end.
It seems like Diesel's contract has yet to be signed, however, with his final comment being:
now it's just up to my reps to allow that happen.
I guess one more implication of all of this is the arrival of new IP to the Marvel Cinematic Universe in 2016 or 2017. Again, I'd be surprised if it's not Black Panther, but we'll see. Inhumans is definitely coming down the pipe and, though we can't ascertain exactly what it is, I do know that Iron Man 3's Drew Pearce has been set to write another, unannounced screenplay for the studio.
Enjoyed this article? Share it!