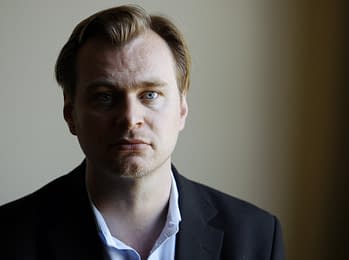 Offering no other details, Warner Bros. has announced a release date for director Christopher Nolan's next film, according to Variety. Set for a July 21st, 2017 opening, it joins Pitch Perfect 3, Luc Besson's Valerian and the City of a Thousand Planets and an untitled animated film from Fox.
Nolan has been an important asset to the studio since he delivered Batman Begins in 2005. Trading off between Batman movies and his own projects for the next several years, he exited the superhero line after developing Man of Steel with screenwriter David S. Goyer. All of his films during that era explore a fantastic concept in very grounded settings. 2006's The Prestige features teleportation as a Victorian stage-magic trick and 2010's Inception takes place in a world where thieves extract secrets out of people's dreams.
His most recent film, Interstellar, features a fairly realistic depiction of space flight in the nearish future and time travel as its fantasy element. At the moment, though, it is unclear if Nolan will continue to chase the fantastic.
Enjoyed this article? Share it!