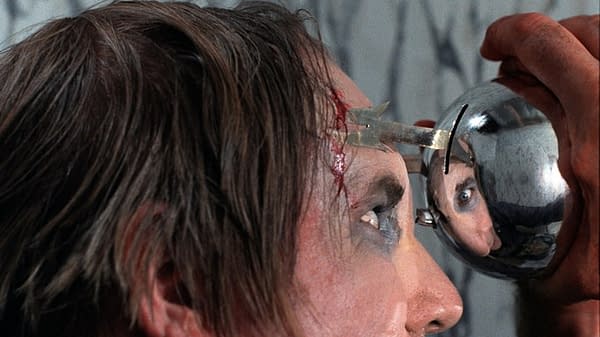 Well Go USA announced today that it will be releasing the remastered version of Don Coscarelli's classic horror film Phantasm, its sequels and the never-released fifth film in the series, Phantasm: Ravager on home video in North America.
The remastered version of the first film — dubbed Phantasm: Remastered — will be available on cable and digital platforms October 7th. The project was the result of Star Wars: The Force Awakens' director J.J. Abrams' wish to screen the film for his staff at Bad Robot Productions, only to discover existing film prints were in terrible shape. Coscarelli was invited to supervise the restoration at Bad Robot, resulting in a new 4K digital remaster and, perhaps more surprising, a new 5.1 audio mix.
Meanwhile, Phantasm: Ravager brings Mike and Reggie's battle with the Tall Man to a close. Stars A. Michael Baldwin, Reggie Bannister and Angus Scrimm reprise their roles one last time.
In addition to the digital release, Phantasm: Remastered will run in theaters nation wide on September 24th as part of Art House Theater Day, with Phantasm: Ravager also receiving a theatrical release on October 7th.
Disc releases of a series collector's set and individual releases of Phantasm: Remastered and Phantasm: Ravager will follow later in the year.
Enjoyed this article? Share it!