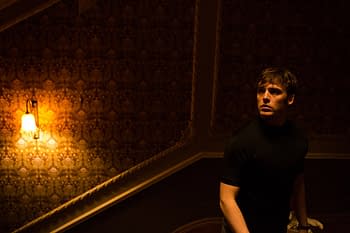 When I visited the location of The Quiet Ones last year and explored their frankly rather unnerving location – a haunted house, I was told, both off screen and on – I got an all too-brief chance to see Sam Claflin at work.
I was hoping to catch up with him at the junket and ask about what I'd seen, but unfortunately, ill health got in the way.
Luckily, Helen Whittle was on hand to step in for me, and she had a good ol' chat with Sam. So here's their back and forth about The Quiet Ones, Bullingdon Club movie Posh, The Hunger Games and more.
HW: Filming a horror flick must be a quite funny or surreal experience. What was shooting The Quiet Ones like?
SC: It was quite comedic in the sense that you don't have sound effects, you don't have music to set up the scene or to give you that sort of suspense and that tension. What we did have though is a director [John Pogue] who liked to get his hands dirty and decided he was going to do a fair few of the sound effects for us!
I think there were moments when me and the other actors were just sort of sitting there trying not to laugh at what was going on and the sort of noises he was making. It was very fun and very funny from start to finish but it was also one of those things where you realise how ridiculous you look when you pull a scared face – especially when there's nothing scary in front of you!
Do you believe in the supernatural?
I wouldn't say I'm a non-believer but I'm open to it. I've never had any experience with it and I know very few people who have, but you know, I'm sure it does happen. You can only believe people that tell you as opposed to saying they're stupid and they're seeing things, it makes them sound crazy, and sometimes as a friend you don't want to… (laughs). But yeah, I'd like to believe there is life after death and that these things exist but yeah, who knows?
What attracted you to this particular script?
I think the fact that it was a horror film and that I enjoyed my character's journey through the film and liked that he's a non-believer. It's very similar to how I look at life: I don't believe until I witness it. I think the film itself was quite special. The characters seemed quite rooted and grounded, every character is believable, which sometimes horror films don't tend to be. But also the fact that it had it's ties with Hammer horror, that really drew me to the project. The fact that it was set in the 70s as well, I really enjoyed the interesting haircuts! Do you have a favourite horror film?
The Blair Witch Project remains one of my favourite films. It was the first horror movie that I watched that really made me believe that there was something out there. I remember the advertising campaign they did which was just a missing poster with those three characters and when I saw the footage it felt like something brand new. There were no credits. I was really worried that those three people really were dead!
Your next film is something completely different, Posh, based on the Bullingdon Club at Oxford. Can you tell us a bit about it?
What's great about Posh and the thing I really really enjoyed is it's so far away from the world that I grew up in. I went to a very middle-of-the-road school, my grades were very average. I've never been in those sort of excessive and posh surroundings. To play a character who was very politically driven, and in fact very dark and nasty, was a real pleasure for me to step into those shoes and to experience that world. I haven't seen the film but if filming it was anything to go by I think it's going to be very interesting.
Was it a conscious decision, maybe to avoid being type cast, choosing projects that are so different from Hunger Games?
I like new challenges and I like to push the boundaries and it's the first year of being able to express myself to the world that I can do more than one thing. As much as I've played he handsome lover guy in things like Pirates of the Caribbean and Snow White and to an extent in Hunger Games, I don't consider myself a pretty boy and I don't see myself as that nice of a guy (laughs). Well, I think I am a nice guy but I think there's a darker side to me and I think POSH definitely allowed that side of me to come out like The Quiet Ones allowed a different side of me to come out.
I think this is the first time I've felt that I'm really changing. I find big budget franchise movies have a tendency to miss over the characters sometimes. I think the Hunger Games has really nurtured that hugely, but what's great about these intimate pieces and very character driven pieces is that you really get an understanding of the characters and they feel more believable, three-dimensional. But like I say, Hunger Games has really got everything down I think.
What's coming up next for you?
I'm currently working on The Hunger Games: Mockingjay Part 1 and 2 shooting back-to-back so that's keeping me very busy. I'm hugely excited by people seeing the character's journeys grow throughout the books and the films.
The next film I have coming out after The Quiet Ones is called Love Rosie which is a romantic comedy, well, a romantic dramedy – it's mainly dramatic. I remember the director telling me that it was a comedy and when when I was trying to explain the story to someone else I was like, 'Oh my god, this is really dark, it's not that funny!' But it is, it has its comedy moments, which is great, but again very different to everything else so it's a very mixed year this year, it's going to be very exciting.
Thanks again to Helen, and to Sam for taking the time.
The Quiet Ones is in UK cinemas now and will open across the US on April 25th. More about the film later, from Olivia Cooke and Jared Harris.
Enjoyed this article? Share it!