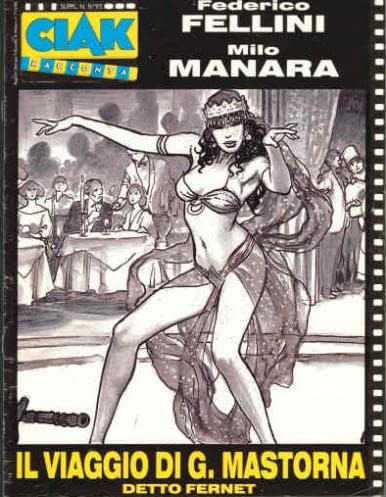 In 1965, Federico Fellini, Brunello Rondi and Dino Buzzati wrote the screenplay for Il viaggio di G. Mastorna, detto Fernet, or The Strange Voyage of G. Mastorna as it is often called in English. If you have seen Fellini's Director's Notebook you'll have seen him pay a visit to Marcello Mastroianni in order to audition him for the film's title role.
Though sets were built at Cinecitta, the film was never completed and it seems to me that no, or very little, material was ever shot. Some stories say that the film was put on hold because the popular singer Mina refused the role that Fellini had intended for her.
And many more stories and rumours have been passed down over the subsequent forty years or so. The film has become so wound up in mystique that it's even dragged up in occult classes on the subject of 'cine-magic' – I kid you not.
Much of the film would have taken place in the afterlife and I can easily see how the notion of Fellini mapping the undiscovered country would garner this certain sort of attention. I'm certainly very curious as to how he would have visualised and populated this other realm (you'll see at the head of this post there was at least one belly dancer).
But the film was lost, though the dream lived on and, years later, Fellini began a collaboration with Milo Manara to translate the screenplay into comics. Manara's strip interpretation was released in 1992, and this would prove to be the final published work of Fellini's life.
The comic seems to tell only the first act of the intended film, though – or so I believe. I've never read it and really don't know for sure how far along its story goes.
…though perhaps I'm about to find out…
A trailer for the film Deragliamenti, or Derailments, has been posted to Vimeo (with a HT to FP). This moodily shot documentary will attempt to tell the story of Manara and Fellini's collaboration on the project, from Manara's point of view.
Derailments is apparently both "short" and "meditative" and will be playing in competition in Toronto. Take a look.
[vimeo]http://vimeo.com/28498314[/vimeo]
It's interesting to note that the doc has been supported by Fabrica, Benetton's "creative laboratory where young artists are invited to develop different communication projects."
Fellini and Manara did complete an earlier comics project together, A Trip to Tulum. That one is sometimes confused with Mastorna, though I believe them to be separate works. Tulum was another fantasy tale, though, and was partly derived from another screenplay, but these were not the same story.
Tulum, incidentally, is still quite easily available
. You can also pick up a copy of the Mastorna comic if you're willing to pay almost $50 for it
. Reprint, anybody?
Enjoyed this article? Share it!