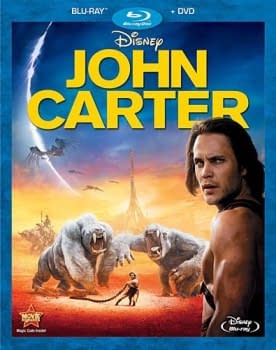 The world has yet to catch on to the quality of Andrew Stanton's John Carter, I feel, but I predict that this film is going to be loved for decades. I certainly can't wait to get my hands on the Blu-ray.
The BBFC have had a look at all of the material on there, and classified it all. For what it's worth, they've given the supplements a 12 rating, just like the movie itself.
Here's the full list of what's included on the disc, coming to a full runtime of 90 minutes and 44 seconds.
00:00:35:24 (JOHN CARTER – BONUS MATERIAL: SECOND SCREEN INTRODUCTION)
00:02:17:01 EXTENDED ESCAPE (WITH INTRO)
00:01:44:01 ORKNEY ISLAND EXTENDED
00:33:06:21 (JOHN CARTER – BONUS MATERIAL: 360 DEGREES OF JOHN CARTER)
00:01:48:22 (JOHN CARTER – BONUS MATERIAL: BLOOPER REEL)
00:14:14:24 (JOHN CARTER – BONUS MATERIAL: POPULATING MARS)
00:08:10:15 LIFE BY THE SECOND: THE SHANZAM UNIT
00:00:32:22 (JOHN CARTER – BONUS MATERIAL: DELETED SCENES WITH ANDREW STANTON (WITH AUDIO COMMENTARY)
00:04:05:17 ORIGINAL OPENING: HALL OF SCIENCE
00:01:50:19 NED AT COLLEGE
00:01:00:01 LUCKY SOB
00:00:56:03 JOURNEY TO THARK CITY
00:00:28:16 SORA AND DEJAH CONFRONTATION
00:00:47:14 CAMPFIRE
00:03:25:18 THOAT RIDE
00:01:16:08 DEJAH'S ANSWER
00:01:03:13 MATAI'S WALK
00:02:38:04 GROOMSMEN ASSASSINS
00:10:40:12 (JOHN CARTER – BONUS MATERIAL: 100 YEARS IN THE MAKING)
I bolded the names of the deleted scenes. Most are pretty brief, but Thoat Ride and Groomsmen Assassins seem fairly meaty. I assume they can each be viewed without commentary, as well as with.
The US release date for the disc is June 5th, and it's available for pre-order now. We're still waiting to hear when it will be out in the UK.
Enjoyed this article? Share it!