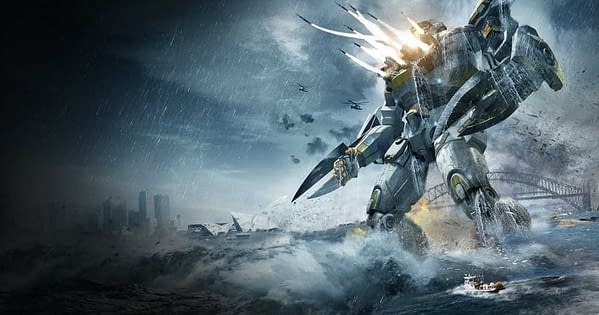 World War Z recently made headlines for an advance release in select cities in America with the option to purchase a "Mega Ticket."
This not only included entry to see the film slightly early but also a HD download of the film to coincide with its home entertainment release, World War Z branded 3D glasses, a poster and a small popcorn. All for $50.
I can't say that would be too tempting for me. I'd happily wait the extra 48 hours to see it. I'd most likely throw out the poster, add the glasses to an ever growing pile in my cupboard and I'm not that fussed about cinema popcorn. So $50 is frankly too high a price by my reckoning. What did interest me about this news, though, was the inclusion of the download.
And now, as per The Hollywood Reporter, Pacific Rim is going to have a similar release in Canada via the Cineplex chain. Seems as if this may be a something that could become more and more common.
Cineplex, partnering with Pacific Rim distributors Warner Brothers, are offering cinemagoers the option of pre-booking an Ultraviolet standard definition download for $19.99 or a high definition download for $24.99. And included in that price is a ticket to see the film in their cinemas. That's a bit more like it, right?
One thing that I frequently hear from friends in regards of going to the cinema is that they're reluctant to pay the price it costs when, if they wait a couple of months, they can rent it, download it or even buy it on Blu-ray for a similar cost to the price of the ticket. A lot of the time the experience of seeing the film on the cinema screen is enough to convince them but I know there is always a lingering awareness of an encroaching home entertainment release.
There's a lot of uncertainty in Hollywood right now about the home entertainment market and it's supposedly causing a lot of hesitation about green-lighting projects because the home revenue figures are now so much harder to calculate. This new experiment seems like it could have potential benefit for both the studios and the consumer, which I'm obviously all in favour of…
…I'm not entirely convinced by Ultraviolet quite yet though.
Enjoyed this article? Share it!